Doctors stage mock "climate inquest" in Parliament Square
Doctors for Extinction Rebellion staged a mock inquest in Parliament Square today into the causes of death of victims of climate change and ecocide. As 100 Rebels lay on the ground underneath white sheets, doctors and nurses went from corpse to corpse, putting a single pink flower on their chests, before informing the "coroner" that each had died from conflict, air pollution, fires, famine or other modes of death related to climate change and ecocide.[1][2]
The group then held a minute's silence to remember the victims of Covid and Ecocide both now and in the future, whilst standing solemnly in front of a banner reading Act Now>>Stop Ecocide>>Save Lives".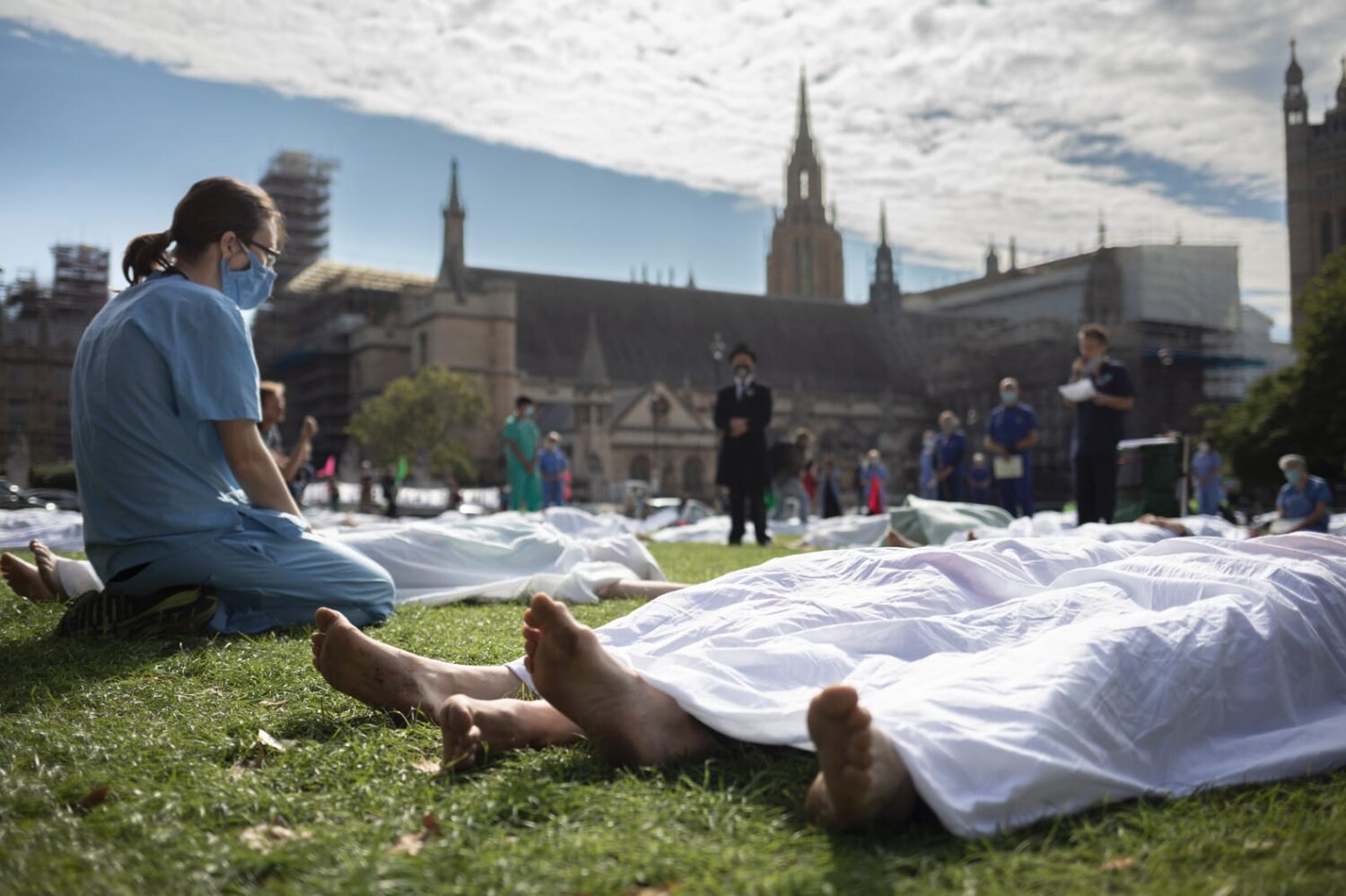 A group spokesperson, Dr Angie Nicholas, a Child and Adolescent Psychiatrist from Dorset said:
Ecocide already kills more people in one year in the UK than have been killed by Covid so far through pollution of water, land and especially air; yet the Government still invests in damaging industries such as fossil fuels. Surely ecocide is effectively genocide and should be made illegal both in the U.K. and internationally? [3][4][5]
Mr Andrew Stevenson, a consultant orthopaedic surgeon who played the role of coroner said:
COVID has shown us that public health policy and our response to these societal risks is now more important than ever. The Climate and Ecological Crisis is an ongoing risk to the health of all of us, and represents a public health emergency. Ecocide must be recognised and curtailed for the sake of all our health and that of future generations.
Dr Mangala Mead, a Medical Consultant from St Albans, said: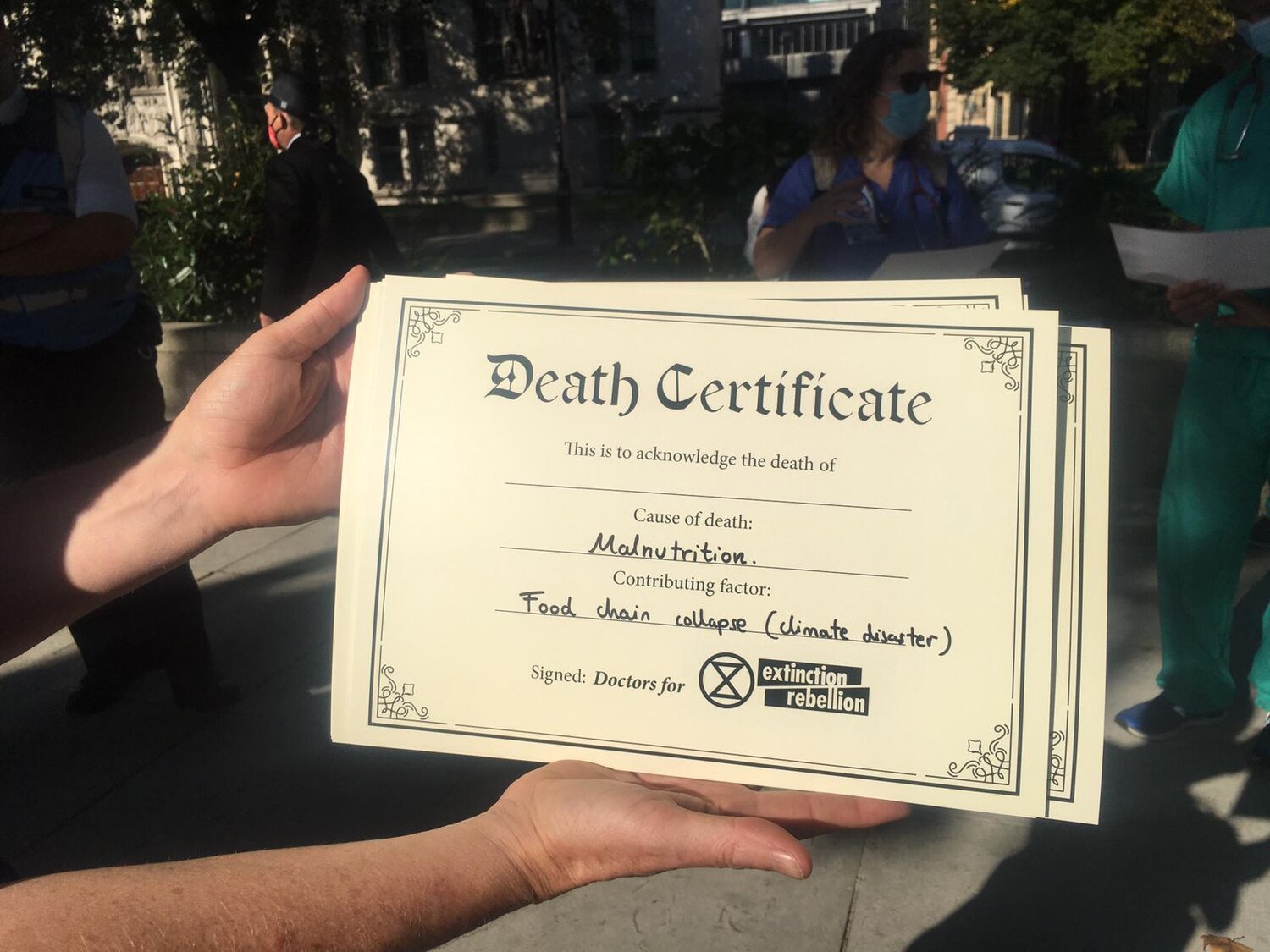 As a clinician, this action really brought home the horrifying reality that people in the global south are already experiencing. How can I look the other way & not do what is in my power to stop ecocide in its tracks. The government must hear us.
Maggie Fay, a specialist dementia nurse and spokesperson at the event said:
As a nurse I have a duty of care to my patients so the idea of being a protestor makes me feel very uncomfortable. But I have to for the sake of my conscience.
Dr Grace Thompson, a GP from Bristol said:
As a doctor and mother of 3 this action made me feel in my heart the lost of peoples own loved ones to this unfolding catastrophe and how I cannot stay silent whilst my own children face such an uncertain future. We have an amazing opportunity given to us by robust science to act now before it's too late.
Notes for editors
[1] Lancet Climate Countdown report [2019]
[2] Stop Ecocide Campaign
[3] Every breath we take: the lifelong impact of air pollution [Royal College of Physicians: 2016]
[4] Worldometers Coronairus statistics.
[5] Cardiovascular disease burden from ambient air pollution in Europe reassessed using novel hazard ratio functions. [European heart journal 2019]
About Doctors For Extinction Rebellion
Doctors for Extinction Rebellion was set up in the wake of the Extinction Rebellion's April 2019 protests, with the intent of legitimising the movement in the face of criticism from certain sections of the media. Their membership has grown to over 1000 members across Europe, Australia and the Americas. Doctors for Extinction Rebellion believes it is a doctor's duty to rebel, using peaceful civil disobedience, when faced with criminal inactivity by their Government, and its refusal to safeguard the long-term health of its citizens.
Their demands match those of Extinction Rebellion i.e.- Government must tell the truth, working with other institutions to communicate the urgency for change.- Government must act now to halt biodiversity loss and reduce greenhouse gas emissions to net zero by 2025.- Government must create and be led by the decisions of a Citizens' Assembly on climate and ecological justice. We call on government to debate the Climate and Emergency Bill produced by eminent scientists, academics and lawyers which will help bring this into being.
What Emergency? | Extinction Rebellion in Numbers |This Is Not A Drill: An Extinction Rebellion Handbook